It's a great day to be a Cardinal at Bloomingdale Middle & High School.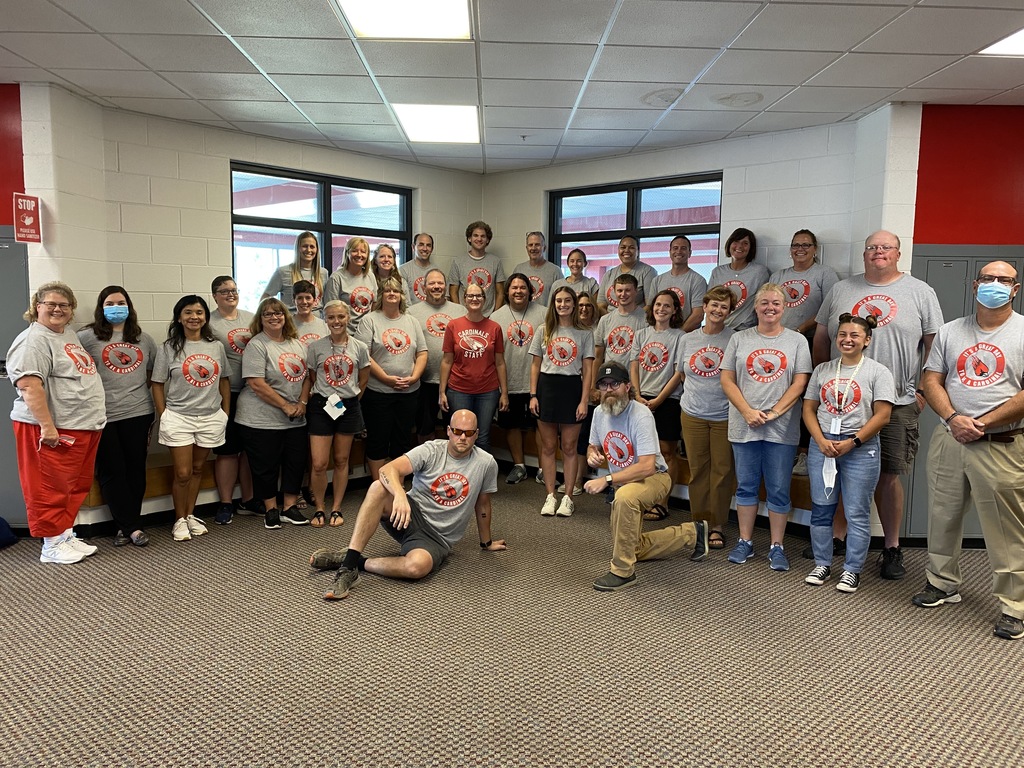 The Student T Shirts will be available for purchase tonight at the football game. The cost is $20 and if you wear the shirt it will get you into all home athletic contests for free for the 21-22 school year.

I am still looking for a few volunteers for the football chain gang tomorrow night. Game starts at 7pm, and you get the best seat in the house. Free hot dog and beverage at halftime:) Please email me if interested @
bvaughn@bdalecards.org
Thanks, and GO CARDINALS!

If you are interested in being part of the chain gang for Thursday's opening football game please email me at
bvaughn@bdalecards.org
. GO CARDINALS!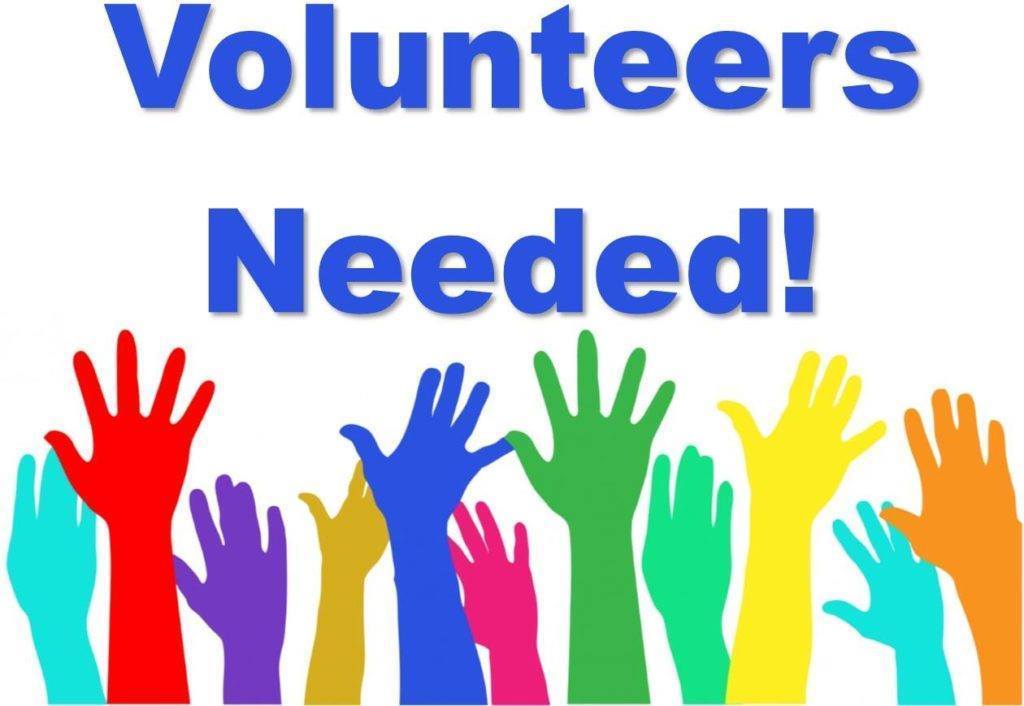 This Week in Cardinal Athletics 8/30-9/4 Tuesday, August 31st Varsity VB Quad @ Fennville @ 5:30pm JV Volleyball Quad Home w/Fennville, Loy Norrix, Bridgman @ 5:30pm Wednesday, September 1st Varsity Soccer Home vs Hartford @ 5pm Thursday, September 2nd Varsity Football Home vs Mendon @ 7pm JV/V Volleyball @ River Valley @ 5pm

Middle School soccer will start on Monday August 30th. Any boys or girls in 6th-8th grade are welcome to come. Practice will be from 3pm-5pm M-TH out behind the elementary school. On Thursday night there will be a parent meeting at 5pm. Please feel free to visit the calendar on the athletic website to see the schedule. If you have any questions see Coach Nauman in room 21 on Monday. GO CARDINALS!

Bloomingdale Families, Don't forget that tonight is open house! Please remember that this year, we are doing open house a little differently in order to limit the number of people in the buildings at one time. If you have an Elementary student, be sure that if you have you signed up for a time to visit your child's classroom. If you have an MS/HS student please follow the schedule below according to the student's last name: A-I 5:30-6:00pm J-R 6:00-6:30pm S-Z 6:30-7:00pm Last night, our board upheld the decision to continue masks as a recommendation for our staff and students while at school. However, due to the federal mandate students will be required to wear masks on school buses. Please see the Return to Learn Plan/Covid Procedures for more information.
https://core-docs.s3.amazonaws
... Virtual Learning Meeting: We will also be having a meeting to discuss the virtual option in the HS Auditorium at 7:15. During this meeting, we will be discussing expectations and requirements. If you are thinking about virtual please fill in the attached google form prior to the meeting today.
https://forms.gle/nMKeGrSjytuMKtSp7
If you haven't already done so make sure that you have filled out BOTH the Final forms Registration form AND a Transportation Request if your student is riding the bus. Please do both ASAP. Transportation Request:
https://forms.gle/GQUz3KTE6fLm
... If you have any questions, please contact Becky Stone in the transportation office at 269-521-3906. Final Forms:
https://bloomingdale-mi.finalf
... You must include a valid phone number and a valid email address. You can set up a free email using yahoo, gmail or hotmail. Contact the school secretary if you have questions. Meet and Greet the New Superintendent will take place tonight during open house. Pullman Elementary from 5:15-6:00 and then I will head to Bloomingdale Elementary approximately 6:20-7:00. We look forward to seeing everyone tonight! Dr. Deanna Dobbins, ED.D. Bloomingdale Superintendent

If you are interested in purchasing Family Passes ($150), Individual Passes ($50), or Student T Shirts ($20) for Athletics, they will be available next week. You can email Mr. Vaughn @
bvaughn@bdalecards.org
and he can add you to the list to get your cards first. He will just need what type of pass you want, and if a family pass, how many cards will you need for your family (have to live in your same household). GO CARDINALS!

Attention Cardinal Families! We will be hosting a FREE 7th- 8th Grade Middle School Volleyball Camp this Wednesday, August 25th from 5:30 – 7:30pm in the Middle School Gym. Permission slips and additional information will be available at the Back to School Open House tonight.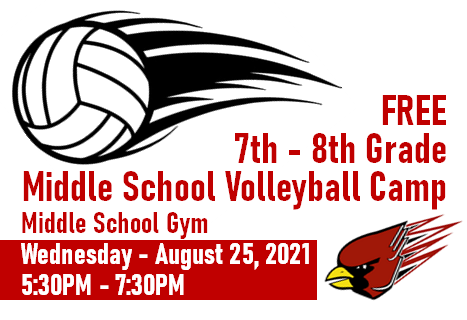 If interested in middle school football, please plan on attending practice today from 4:30pm-6:30pm. GO CARDINALS!

This Week in Cardinal Athletics 8/23-8/28 8/23- JV/Varsity Volleyball Home vs Lawrence @ 530pm/7pm 8/24- JV Volleyball @ Delton Kellogg Invite @ 9am 8/24- Varsity Soccer @ Paw Paw @ 7pm 8/25- Varsity Volleyball @ Delton Kellogg Invite @ 9am 8/25- CC @ Bridgman Invite @ 5pm 8/27- Varsity Football @ Eau Claire @ 7:30pm 8/28- Varsity Volleyball @ Eau Claire Invite @ 9am

7th & 8th Grade Middle School Volleyball begins August 30th from 3:30-5:30pm in the Middle School Gym. Athletes are to report directly to the cafeteria after school. Sports physicals and final forms are required to practice. If you need to schedule a sports physical, Bangor Health Center provides sports physicals at no cost. Final Forms Link:
https://bloomingdale-mi.finalforms.com/
Both Middle School Coaches will be available at the upcoming Back to School Open House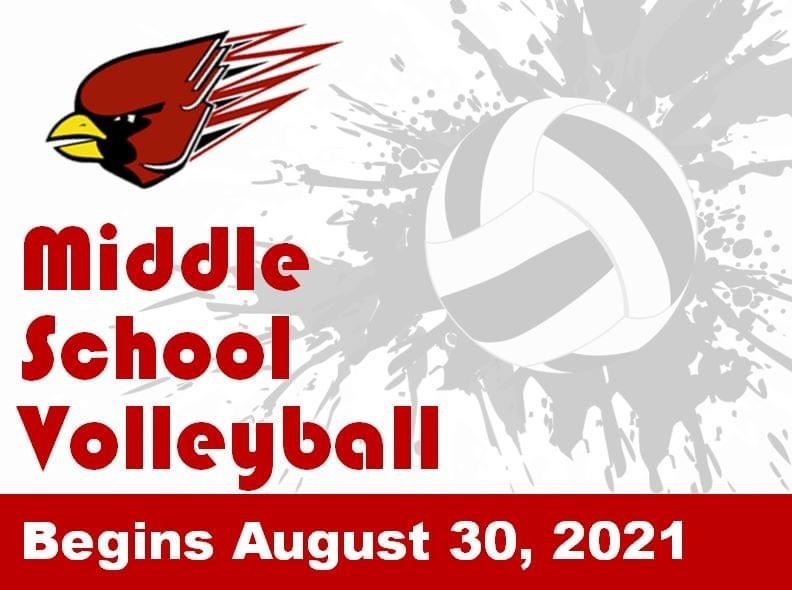 Fall Athletic parent meeting is tonight at 6:30pm. We will start in the auditorium. Hope to see everyone there.

Middle school football practice today and tomorrow from 530pm-630pm. If interested you must register in final forms and have a physical dated after 4/15/21.

We are still looking for more high school football players to come out and round out the roster. Practice is at 4pm today. If you have any interest come on up and talk to Coach Good. GO CARDINALS!

Fall Sports Parent Meeting will be August 18th @ 6:30pm in the auditorium. All parents are encouraged to come and get information on all fall sports. See you then!

As of 2:30pm all high practices, with the exception of cross country (practicing from 6pm-8pm) have been cancelled due to the power outage.

Athletics Parent Meeting scheduled for tonight is going to be rescheduled due to the power outage at the school. New date will be announced soon.

Remember to complete the Transportation Request for next school year. Please click on the link
https://forms.gle/GQUz3KTE6fLmiQMx8
to complete your request ASAP. If you have any questions, please contact Becky Stone in the transportation office at 269-521-3906