Congrats to Kallie Harrison, adding another plaque to the collection. Kallie was one of 4 female athletes in the state to receive the award.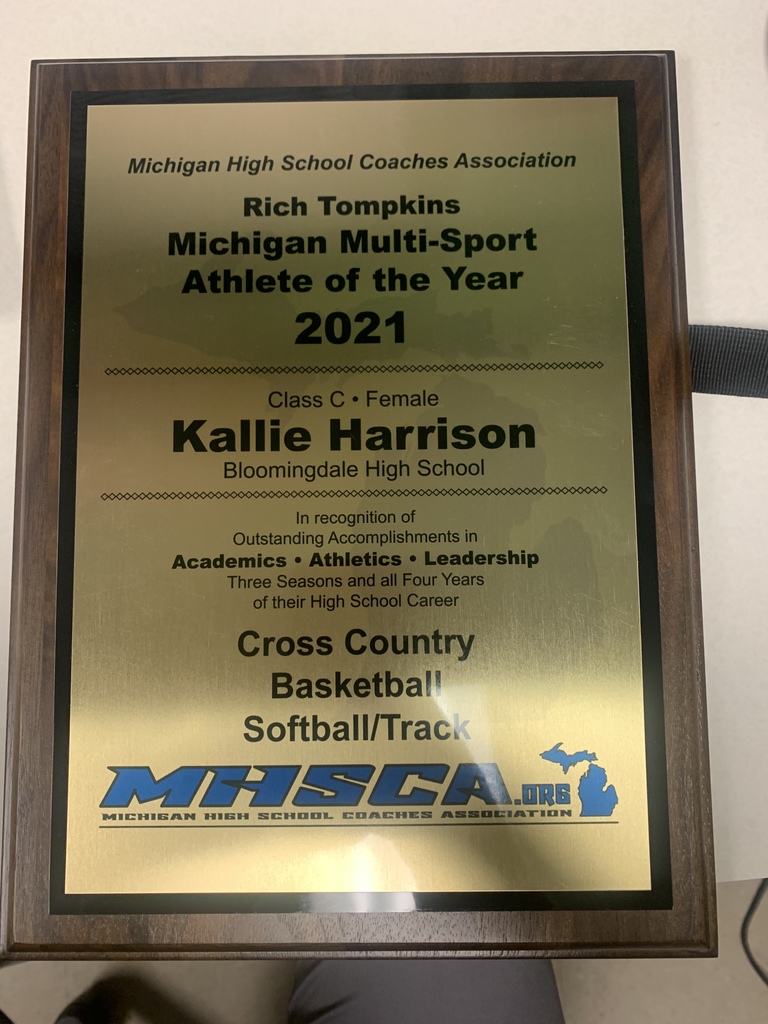 Each Spring some of our teachers meet in Gobles and ride their bikes to work. They picked a chilly morning this year!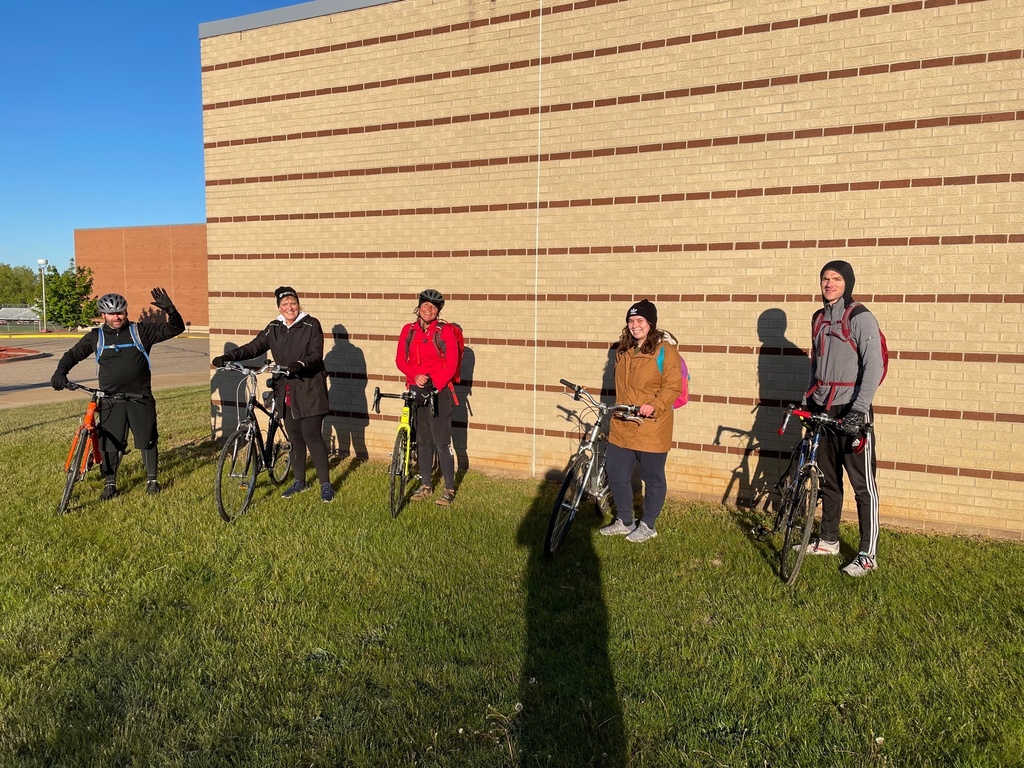 Baseball/Softball games tonight are cancelled at White Pigeon. We will reschedule the games for 5/27 @ 4:30pm at White Pigeon.

Middle School Track is canceled for tonight 5/6.

Bloomingdale Public Schools is planning for the 2021-2022 school year in many ways. One way is by hiring teachers. Check out the Employment Opportunities page on the district website for all the details.

PUBLIC NOTICE OF HEARING Pre-Labor Day Start Waiver Section 1284b of the Revised School Code (MCL 380.1284b) prohibits public schools from scheduling instruction on or before Labor Day. However, the legislation also provides the State Superintendent with sole authority to issue a waiver from this requirement if it is determined that the school or program is a bona fide year-round school or program established for education purposes. When a Labor Day waiver is requested, Section 160 of the State School Aid Act (MCL 388.1760) requires the district to conduct a joint public hearing at a location within the district or intermediate school district. A joint public hearing must take place before the Labor Day waiver can be approved. The local school board is not required to attend the hearing; however, board participation is encouraged where possible. There will be a Public Hearing for the purpose of application for a Pre-Labor Day Start Waiver to the Michigan Department of Education on behalf of the following school districts: Bangor Public Schools, Bloomingdale Public Schools, Covert Public Schools, Decatur Public Schools, Gobles Public Schools, Hartford Public Schools, Lawrence Public Schools, Lawton Community Schools, Mattawan Consolidated School, Paw Paw Public Schools, South Haven Public Schools, Bangor Township S/D No. 8 Wood School, Michigan Online School, and Van Buren Intermediate School District. Date and Time of Meeting: April 30, 2021 from 9:00 – 9:30 am Place of Meeting: Van Buren ISD, 490 S Paw Paw St, Lawrence, Michigan This meeting will be held virtually due to the COVID-19 pandemic. The public is welcome to call in at: Phone # (415)655-0001 Access code: 160 456 1301 Please visit vbisd.org for virtual meeting information.

Athletic Schedule 4/26-5/1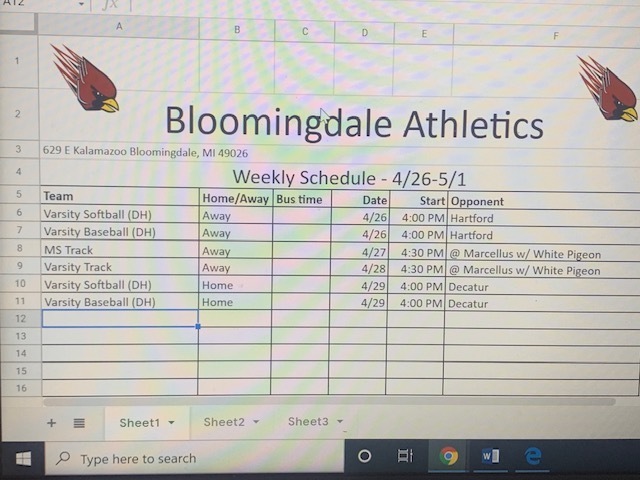 Bloomingdale Public Schools Board of Education selected the following finalists to participate for a second round of interviews for Superintendent of Schools: April 29, 2021 6:00 PM - 7:00 PM Deanna Dobbins, Elementary Principal, Glenpool Public Schools, Oklahoma 7:00 PM - 8:00 PM Lucas Trierweiler, High School Principal/Special Education, Director, Delton-Kellogg Schools, Michigan 8:00 PM - 9:00 PM William Dygert, Elementary Principal, Bloomingdale Public Schools, Michigan Interviews will be held on April 29, beginning at 6 PM in the High School Auditorium. Community members, district staff and interested parties are encouraged to attend the interviews.

Senior Spotlight Maria Herrera Class of 2021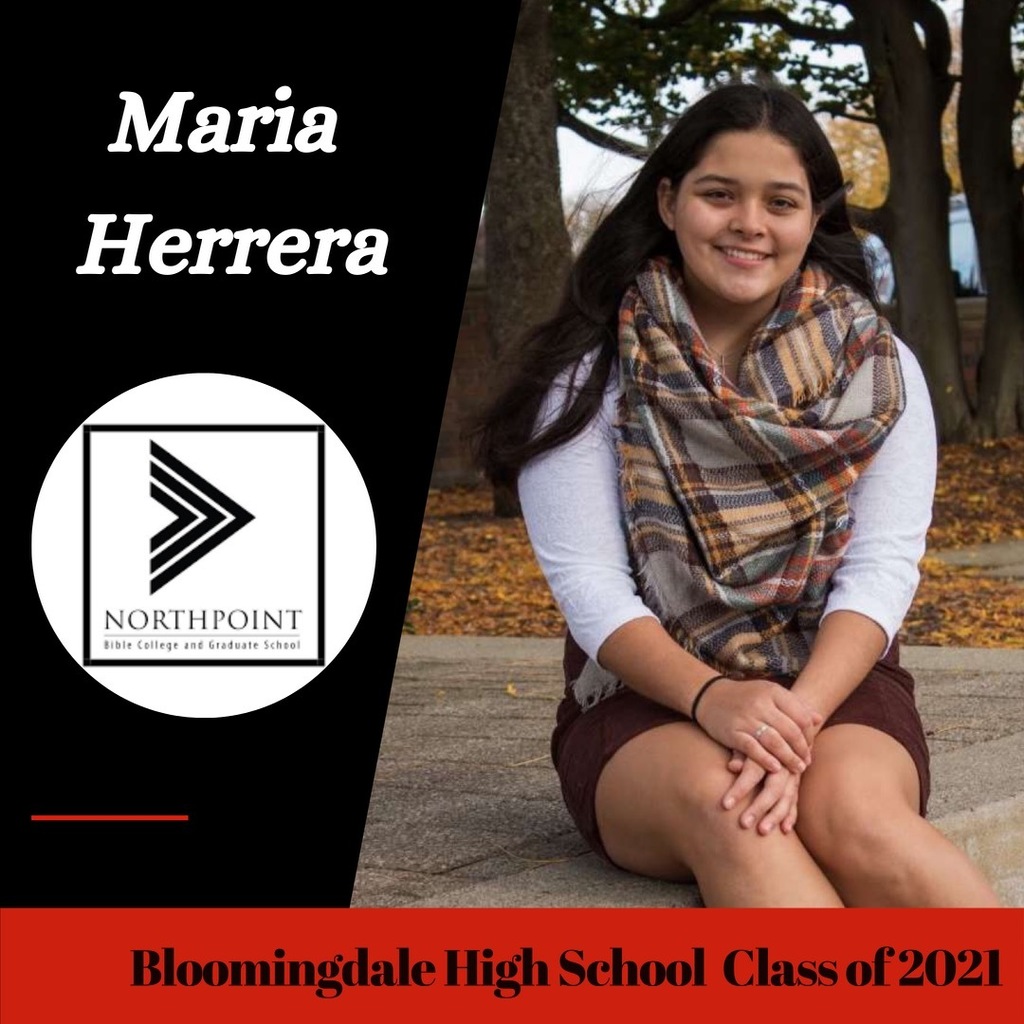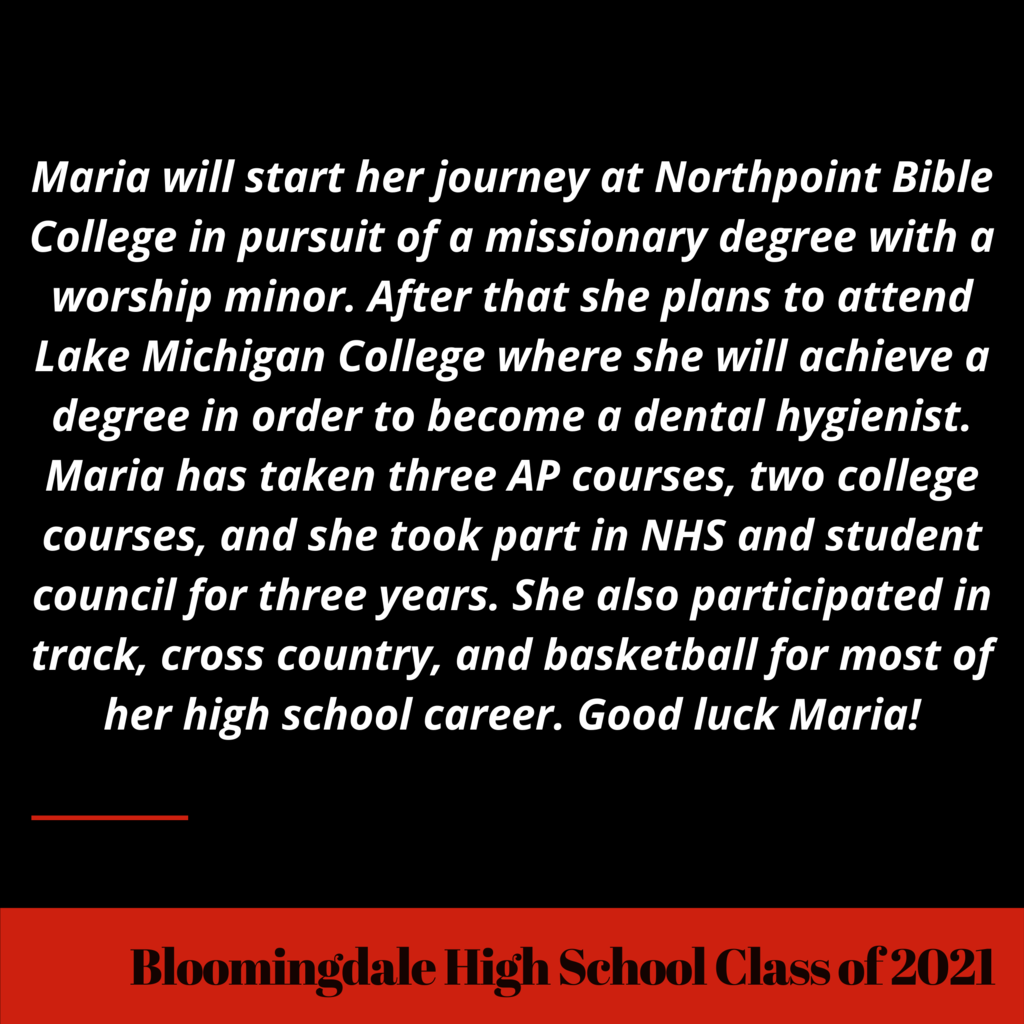 If you plan on attending the track meet tonight please be reminded that masks are still required for all fans. There will not be a charge to get in to the track meet today either. The meet will start at 4:30pm. Come on out and support our track athletes.

The Superintendent interviews will be live streamed through youtube. Search Bloomingdale Superintendent Interviews on youtube to watch. You will also be able to provide feedback through a link found on the District's website. This link will be available until the end of the interviews on Thursday. Interviews begin at 6pm on Wednesday and 6pm on Thursday in the High School Auditorium. The candidates and their scheduled time is: Wednesday, April 21 6:00pm Deanna Dobbins 7:05pm William Dygert 8:10pm Melissa Corona Thursday, April 22 6:00pm Lucas Trierweiler 7:05pm Dr. Sean Wightman 8:10pm Robert Bueche

Don't forget to pick up a copy of the VanBuren Reminder and read the Cardinal Connection. It's also posted on the District's website.

The middle school track meet originally scheduled for Tuesday this week is being moved to Thursday at 4:30pm. As of right now the HS meet will still be on Wednesday.

Baseball and softball scheduled for today have been cancelled due to weather. Game is being moved to 5/20 at 4pm.

We are hosting a middle school track meet on Tuesday and a high school track meet on Wednesday. Both start at 4:30pm. I am looking for some volunteers to help with some of the events. If you are interested please send me an email at
bvaughn@bdalecards.org
. Thank you, and GO CARDINALS!

Six Candidates to Interview for Superintendent of Bloomingdale Public Schools Interviews will be held on April 21 and 22, beginning at 6 PM in the High School Auditorium. Community members, district staff and interested parties are encouraged to attend both evenings of interviews.

ATTENTION ATHLETES: MAKE SURE YOU HAVE THE COVID TESTING WAIVER SIGNED IN FINAL FORMS!! If you do not have the waiver signed, you will not be allowed to practice! Testing will take place on Monday at 1:30 in the gym, and will be followed by practice until 3:00. Athletes who attend the later practice will be tested upon arrival. MAKE SURE ALL YOUR FORMS ARE COMPLETED TODAY!!! Can't wait to get back to the track tomorrow!

Just a reminder, please let everyone know that plans on attending competitions/games this spring. Per MHSAA guidelines: All spectators must wear face masks at all times while sitting in bleachers or a fixed spectator seating area, or while in public areas and unable to maintain 6 feet of distance from one another. Thanks you!

Good luck to Stephos Georgiou tomorrow as he competes at wrestling regionals @ Union City.

Tickets are still available as of 12:45pm for tonight's girls basketball district final game vs Gobles @ 7pm @ Bangor. Come out and support your Lady Cardinals by going to GoFan.co to purchase tickets. No passes will be accepted.