HS Comp Cheer practices for next week. They will practice in the elementary gym- Nov 9th 1:15-3pm, Nov 10th 1:15-3pm, Nov 11th 3:30-5:30pm.

Still in search of some MS Boys Basketball players, 6th-8th graders. Practice is 1pm-3pm most days.

Congratulations to our September Athletes of the Month, Olaisa Moss and Joe Furlan. I was waiting on the new shirts to get done, so sorry for the delay. Olaisa has had an awesome start to the season. She has finished in the top 10 in every race so far but more impressive has been the mentorship roll she has provided to the freshman on the team. She goes on long runs with them and keeps their spirits up during hard practices and leads by example in every way. She is everything you want in a leader. Olaisa is also very involved in the Christian Fellowship group after school. Joe has been an amazing senior leader for the undefeated cross country team this season. He has won all 4 of his races and his served as a mentor to the younger runners on the team. He also serves as a volunteer firefighter for Columbia Township.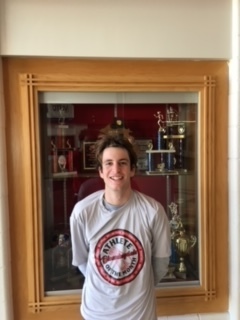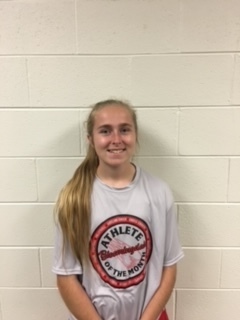 Tonight's volleyball match between Bloomingdale and Bangor at 5:30pm has been cancelled. Bloomingdale will advance to the district finals game tomorrow night (Thursday) at 5:30pm @ Bloomingdale vs the winner of Gobles and Holland Black River being played at 7pm tonight. I am working with GoFan (the site you purchased your tickets from) for refunds for the Bloomingdale vs Bangor game scheduled for tonight. If you want to attend the game tomorrow (code will go out tomorrow morning), or the second game tonight (go to this link-
https://gofan.co/app/events/140672
) you will have to purchase a new ticket.

Don't forget that Bloomingdale Public Schools offers meal pick up every in-session day. Hot and cold meals are available 10:00 a.m.-10:30 a.m. at the Middle and High School (by the MS gym) and at Pullman Elementary 11:45 a.m.-12:15 p.m. All children in the area are encouraged to take advantage of this opportunity every week Monday through Friday.

Looking for more middle school girls for Competitive Cheer this winter. The next practice will be this Thursday from 1:00-3:00pm in the Bloomingdale Elementary Gymnasium

If you are interested in playing high school girls basketball this winter, practice will start on November 9th from 4:30pm-7pm in the HS gym. Remember to go to Final Forms and register if you plan on attending.
https://bloomingdale-mi.finalforms.com

Thank you for those that have registered on Final Forms. There are many registrations that are incomplete and will need to be completed prior to playing a sport. There is an additional form for transportation that has recently been added and will need to be filled out. You can just login to your account and finish registration (anything that is red is not done). Just a reminder that if you plan on playing a winter sport you must register on Final Forms at the following link. If you do not have access to a computer or smartphone to register please call the athletic office at 269.521.3920, or email me at
bvaughn@bdalecards.org
, and we will find a way to help get it done. Thanks!
https://bloomingdale-mi.finalforms.com

Any middle school (6th-8th Grade) boys still interested in playing basketball? There is still time. They are practicing from 1pm-3pm during the week.

The Volleyball District game between Gobles and Fennville originally scheduled to be at Bloomingdale tonight (Monday, November 2nd) is being moved to Gobles, and will start at 5:30pm. That is just for tonight's game.

There will be no middle school basketball practice today, Monday 11/2.

The Cardinals cross country teams competed at the regional championship meet today. In the boys race Joe Furlan finished 3rd and Jaden Barnes was 13th and both of them earned a trip to the state championship meet next week. The boys team battled hard and left everything on the course, they finished 4th as a team. David Garcia was 21st and Joe Stocchiero was right behind in 22nd. Trace Wixom was 31st and Tyler Osterman ended the year with a PR and finished 44th. Hold your heads up high boys, it was a great season! The girls team came into the race ready for a fight and they were in one every single step of the way. When all runners had finished and the scores had been tallied it ended in....a tie for 1st place. BUT, the tie is broken by the team's #6 runner and today our #6 runner Olaisa Moss was better than Coloma's giving the girls team the regional championship! Their second in the last 3 years. Aimee Sustaita and Kallie Harrison finished 7th and 8th respectively and were regional medalists. Zee Dickerson was 25th, Abby Krall was 30th, Addison Miller was 33rd, Olaisa Moss 41st, and Andrea Paz was 50th. Great running girls and a huge congratulations on another regional championship!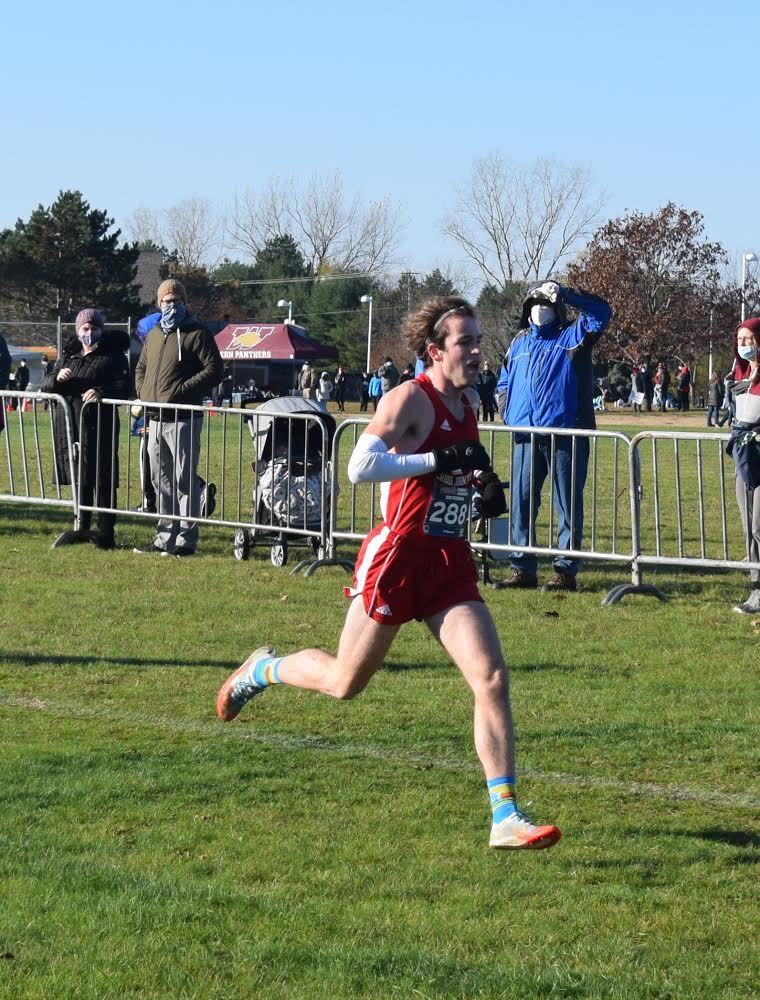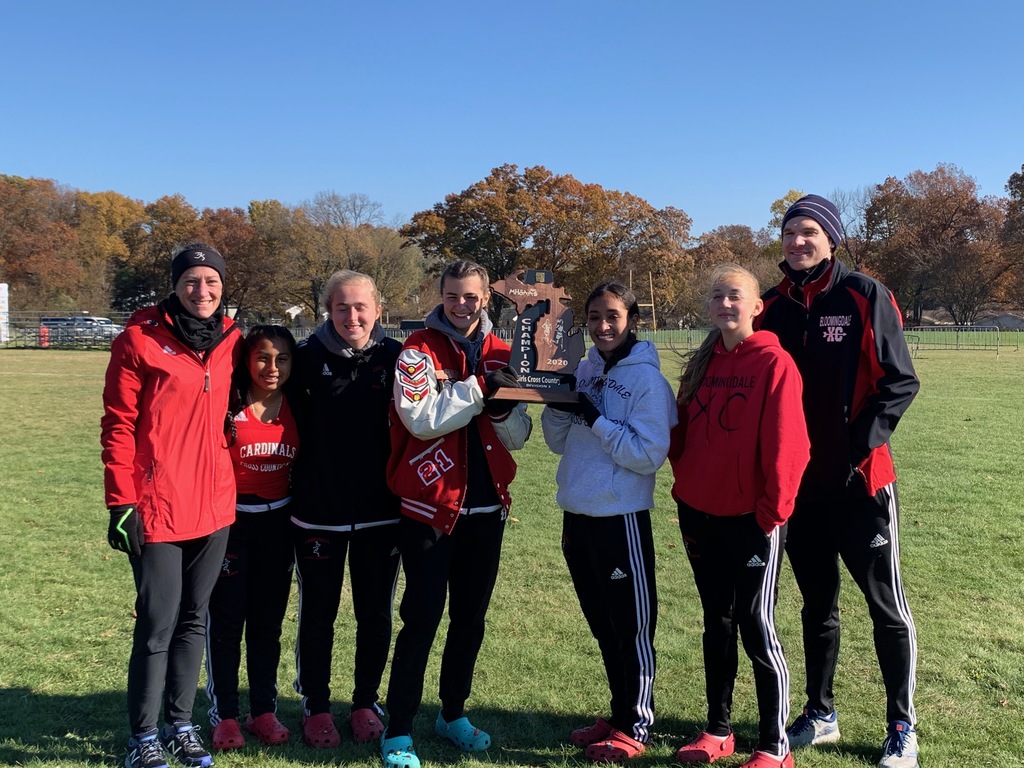 Congrats to the Girls CC team on their Regional Championship today at Portage. Great job! GO CARDINALS!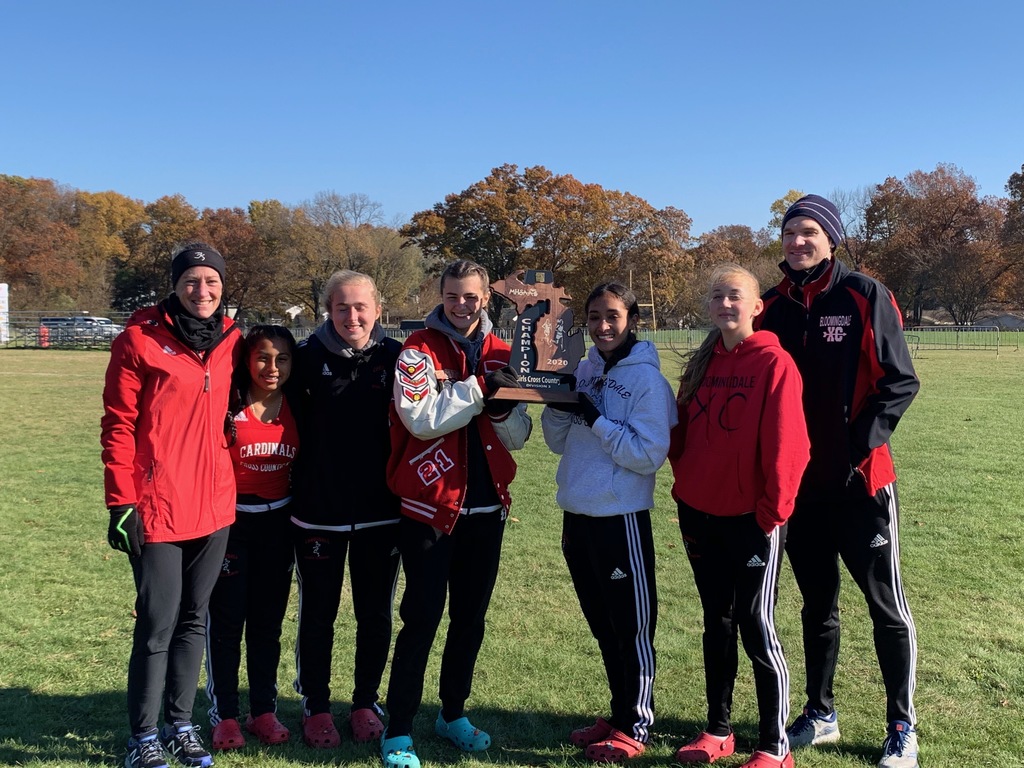 The MHSAA is doing digital ticketing next week for the 2020 Volleyball District Tournament @ Bloomingdale Here is the link to purchase tickets for the Volleyball District game on Wednesday vs Bangor @ 5:30pm.
https://gofan.co/app/events/132886


Middle school competitive cheer practice will start next Tuesday November 3rd from 1:15pm-3:00pm in the Bloomingdale Elementary Gym. Remember that you need to register on Final Forms and have a physical (if dated between 4/15/19 and 4/14/20 then you will also need to fill out a Health Questionnaire) on file (forms can also be uploaded into Final Forms).
https://bloomingdale-mi.finalforms.com

Furlan Commits to SVSU Bloomingdale Senior Joe Furlan took a big step last week as he committed to Saginaw Valley State University to further his academic and athletic career. Joe will be majoring in criminal justice and minoring in emergency management, and he will be a member of the school's track and cross country teams. This commitment is the culmination of years of hard work and dedication not only to Joe's efforts in the sport of running but also to the academic and extracurricular activities he has pursued outside of sports. Joe is a certified firefighter and member of the Columbia Township Fire Department, his experience in this area is what led to his interest in the criminal justice and emergency management field, which he plans to work in once his running career is finished. His athletic achievements in Bloomingdale are vast and impressive. He currently holds the school cross country record with a time of 16:28, and has set his sights on setting records on the track this coming spring. He is a 4 time first team all-conference runner, a 2 time regional medalist, and he was the first Bloomingdale cross country runner to earn all-state honors, doing so at the end of his junior season. His coach Alan Bobalik said "Joe has been an absolute joy to have on the team these past 4 years, he was a great leader and his effort everyday is what led to this great college opportunity. Students in the community should look at Joe as an example of what can be achieved through hard work."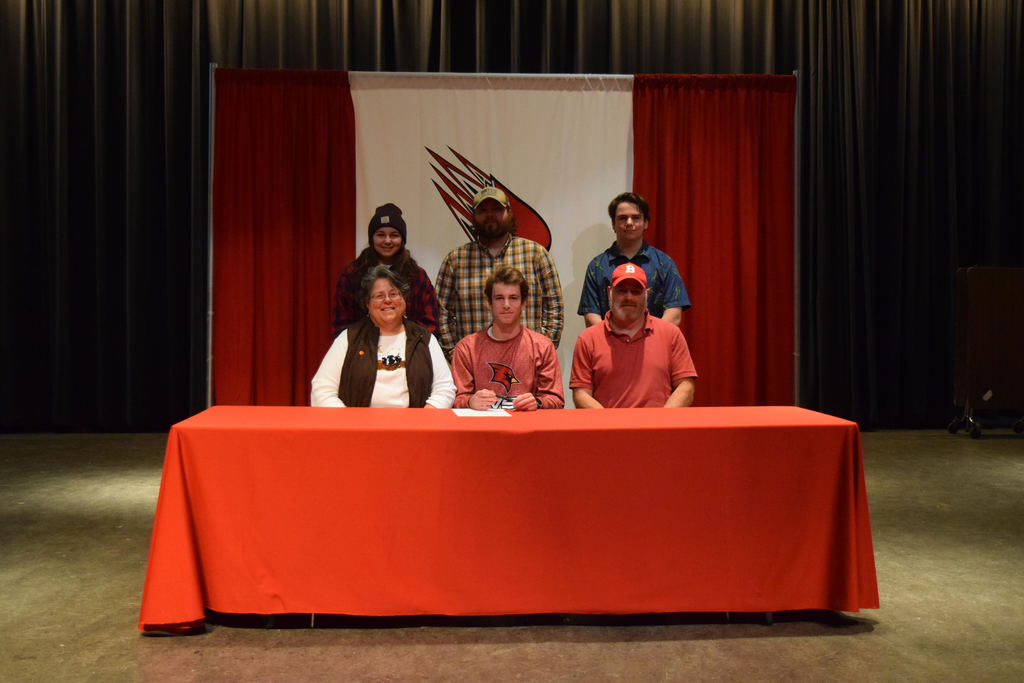 We are looking for more boys that are interested in playing middle school (6th-8th grade) basketball. We would like to have 2 middle school teams. They practice tomorrow from 1pm-3pm (which will be the normal practice time). The season will be done prior to holiday break. If interested reach out to Coach Kidder or Coach Douglas for more information.