It's time to get registered for the 2022-2023 school year. Download the District app for easier access. From the menu button choose Student Registration.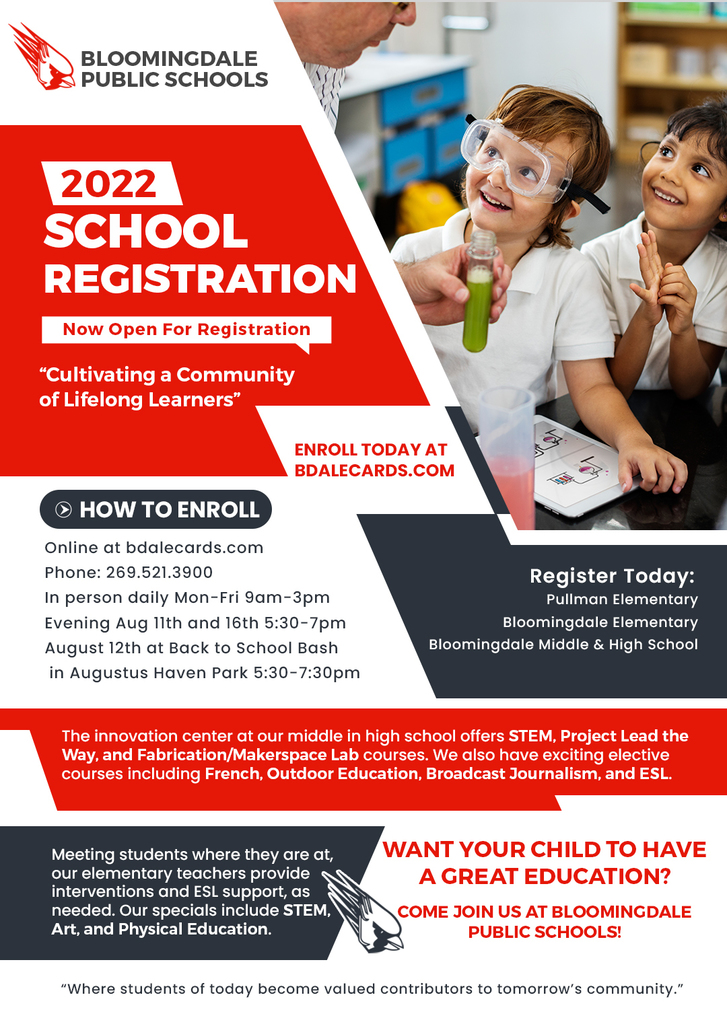 High School Fall Sports Begin Monday. Football: 5-9pm Meet in Locker Room Cross Country: 6-8 pm Meet in HS Front Lobby Volleyball: 5-7:30 pm Meet in HS Gym Boys Soccer: 7-9 pm Meet in Stadium Sideline Cheer: 5-7 pm Meet in Bloomingdale Elementary Cafeteria All Athletes need a physical on file in order to participate. Physicals must be dated after April 15 of this year. You can bring your physical to your first practice. Click this link for more information.
https://5il.co/1fkt0
Los deportes de otoño de la escuela secundaria comienzan el lunes. Fútbol: de 5 a 9 p. m. Reunión en el vestuario Campo a través: 6-8 pm Reunión en el vestíbulo delantero de HS Voleibol: 5-7:30 pm Reunión en el gimnasio de HS Fútbol masculino: 7-9 pm Reunión en el estadio Animación lateral: 5-7 pm Reunión en la cafetería de la escuela primaria Bloomingdale Todos los atletas necesitan un examen físico en el archivo para poder participar. Los exámenes físicos deben tener una fecha posterior al 15 de abril de este año. Puedes llevar tu físico a tu primera práctica. Haga clic en este enlace para obtener más información.
https://5il.co/1fkt0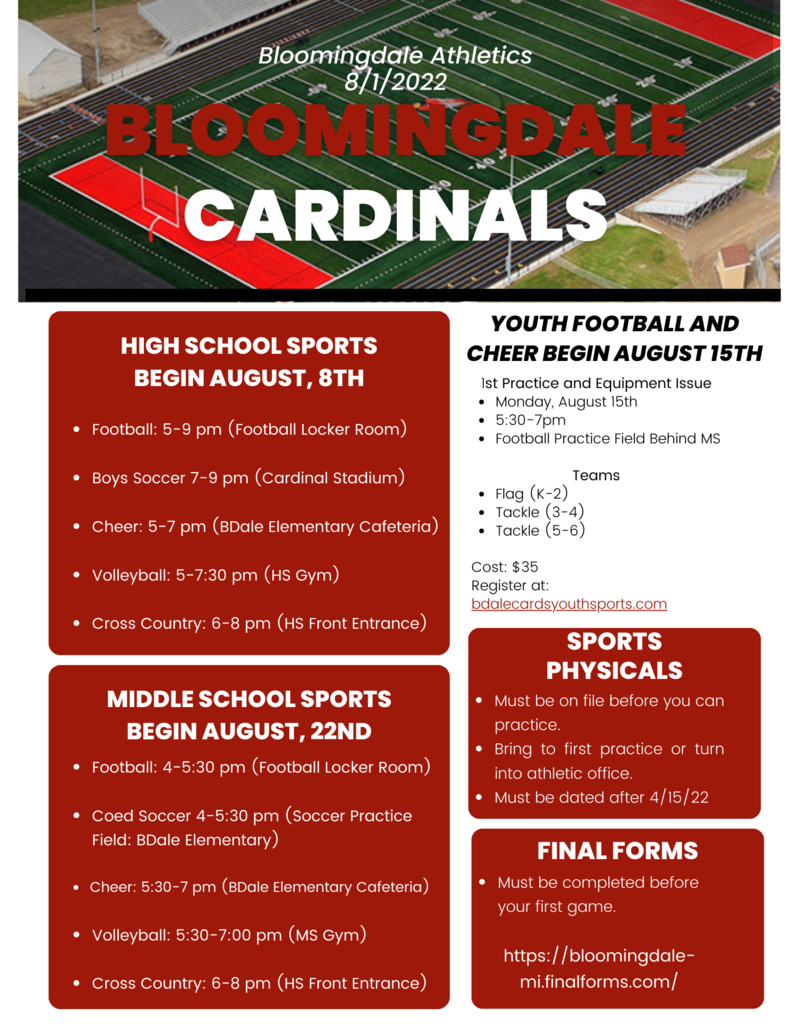 Check out what Bloomingdale has to offer!

What's your strength? We all have something to offer the students at Bloomingdale Schools. Check out our open positions at bdalecards.com. Secondary Special Education / CI Teacher Special Ed Teacher - Bloomingdale Elementary Special Ed Teacher - Pullman Elementary Special Education Paraprofessional Elementary ESL Teacher MS/HS ELA Teacher MS/HS Math Teacher Bus Driver Elementary Parapro / Librarian Elementary Teacher - Bloomingdale Elementary MS/HS Physical Education / Health Teacher

Tomorrow, Wednesday, July 27th, Bloomingdale is hosting a free youth football camp in the high school stadium from 6:00 pm to 7:30 pm. The camp is open to all students K-6th grade. There's no need to register for the camp. We will also have in person sign-ups available for the upcoming youth football and youth cheer seasons. There's no experience necessary to attend the camp or to play this season. Contact Coach Hayes with questions.
jhayes@bdalecards.org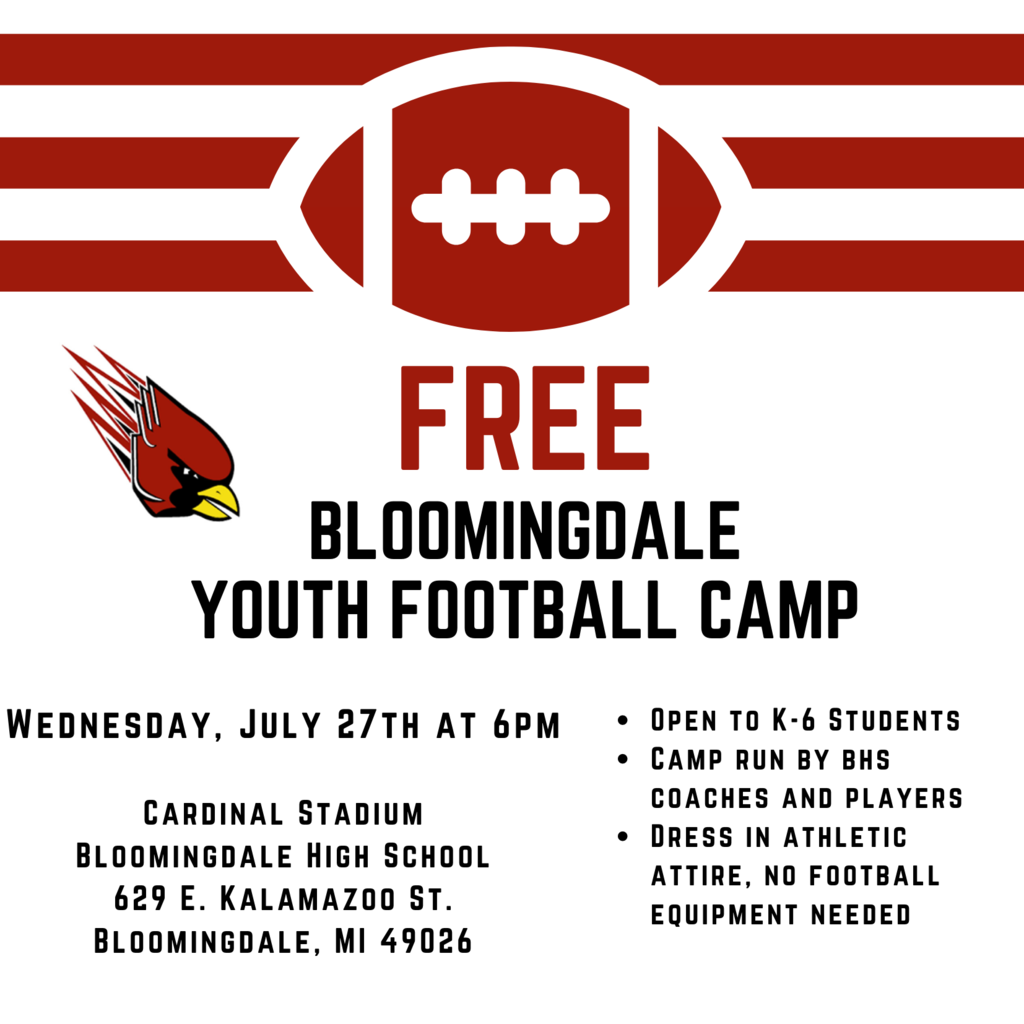 See below for this week's athletics schedule and information on athletic physicals being offered at Lawrence this week. Don't forget about the FREE Youth Football Camp this Wednesday. Open to all students K-6. We will offer in person registration for the youth football season at this camp. Remember, High School sports begin August 8th and Middle School Sports begin August 22nd. You need a physical prior to the first practice. Physicals must be dated after April 15th of this year. Physicals: Wednesday (July 27) from noon - 3pm Lawrence is hosting sports physicals provided by Health Bar. Cost is $40: Cash, Card or Check (Make Checks out to "HealthBar" No appointment necessary You need to complete a liability form prior to arriving. You can scan the QR code on the attached flyer, or click this link:
https://hipaa.jotform.com/221924331254146
Parents will not have to be present if the physical and HealthBar liability form are filled out. Physicals will take place at Lawrence High School, 650 W. St. Joseph Street, Lawrence, MI 49064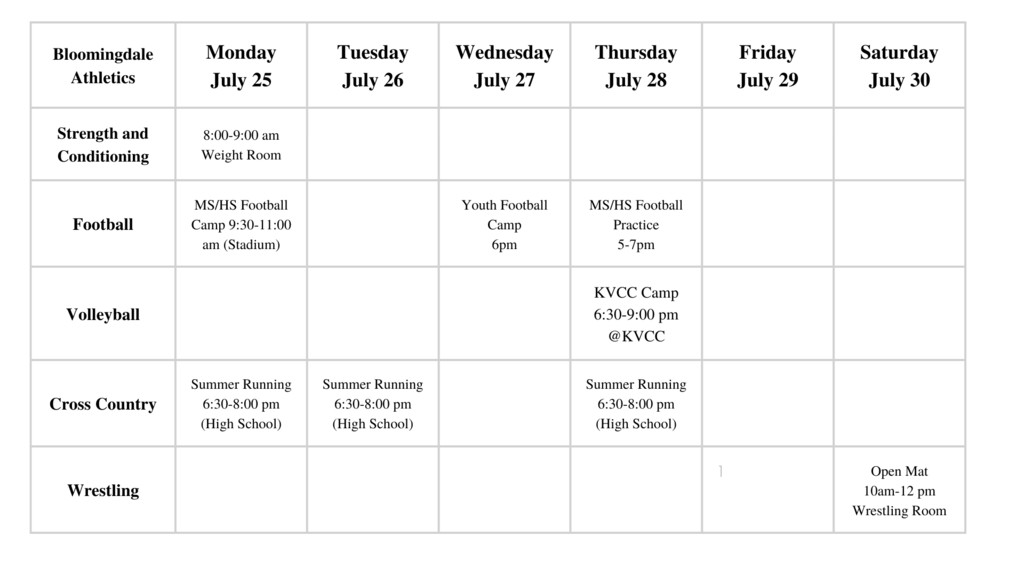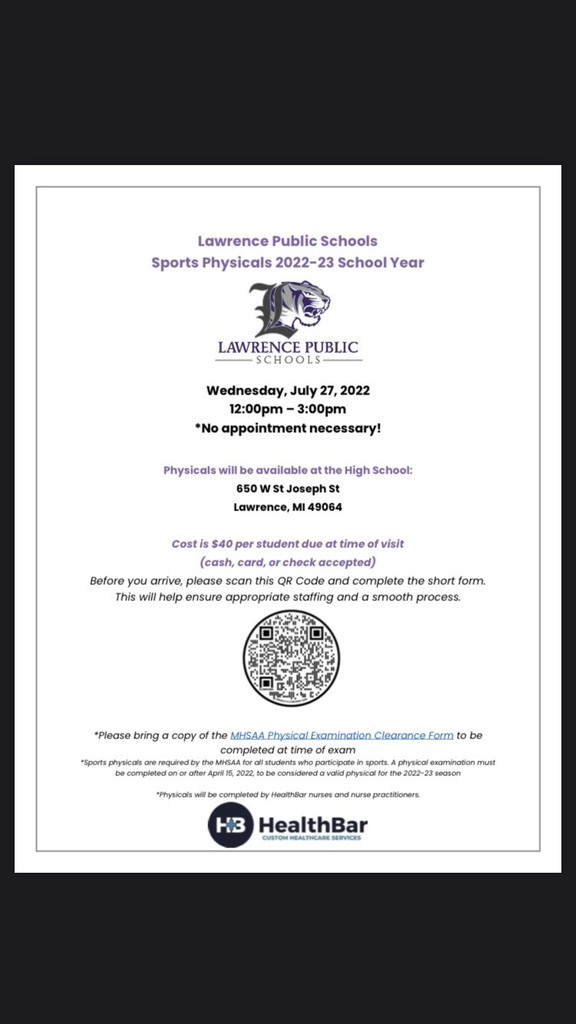 Check out this week's athletics schedule for Bloomingdale Middle and High School Students. There's a lot going on in Football, Volleyball, Cross Country and Wrestling. High school sports begin August 8th. Middle School sports begin August 22. Don't miss out on these summer opportunities to get better at your sport.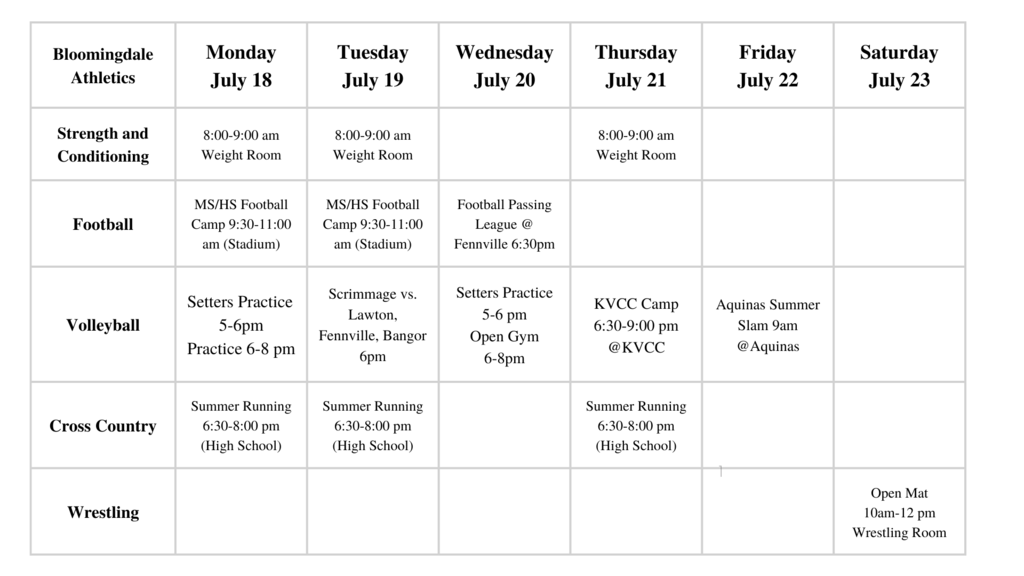 Be a role model! Looking to get involved with kids in the community? Check out the coaching opportunities on our website. Not sure if you're qualified? Contact the Athletic Director, Jason Hayes at 269-521-3920. We have openings for Volleyball, Soccer, Football, Wrestling. #bdalecards

Here's the athletics schedule for Middle and High School athletes for the week. There's only a few weeks left before our fall sports begin on August 8th. Take advantage of these opportunities to get better before the season begins! Go Cards!

Keep checking the job postings on our website. You never know when the perfect opportunity will be there - for you or someone else. #bdalecards

The 2022-2023 District Calendar has been finalized. Visit our website to see it. Or follow this link.

The 2022-2023 District calendar has been finalized. View it here
https://5il.co/1dfz6
or find it on the homepage of our website at bdalecards.com.

COME WORK WITH US! We have several positions available. We've updated some and added some. Check out all of them on our website. It's a Great Day to Be A Cardinal! #bdalecards

Coaches Needed! We still have a couple open coaching positions for this fall. 1. Varsity Assistant Football Coach (Defense) 2. Middle School Volleyball Coach Email
jhayes@bdalecards.org
if you're interested. Thank you.


There's plenty to do this week if you're a MS/HS Student-Athlete. Check out this week's schedule for Football, Volleyball and Cross Country.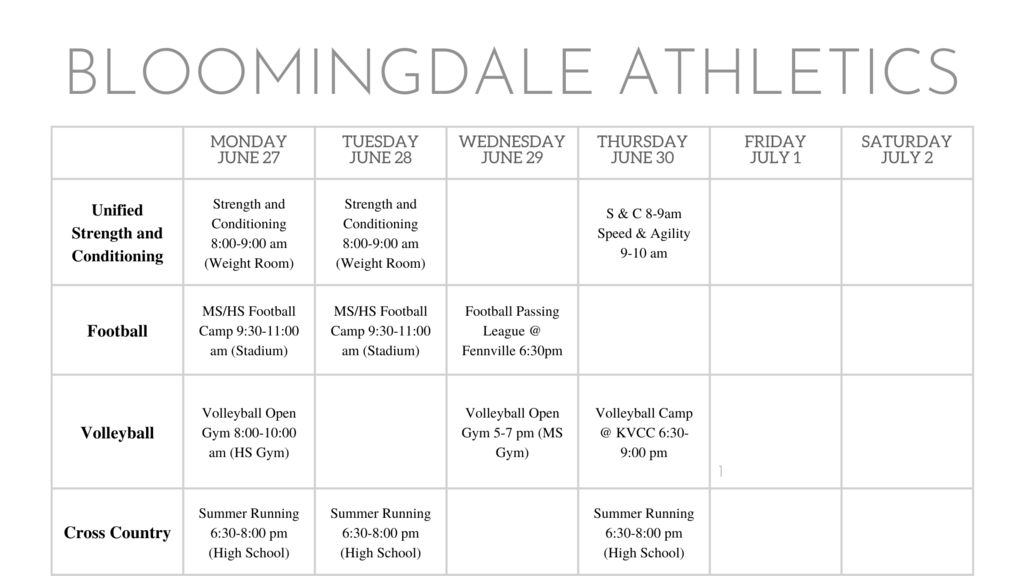 Here's the summer workout schedule for this week at Bloomingdale High School. June 20-June 25.

Still looking for new team players! And we've added more job postings. Hiring for a part-time elementary teacher and a central services secretary. Check out our website for all of our open positions. IT'S A GREAT DAY TO BE A CARDINAL! #bdalecards

Registration for Bloomingdale Fall youth sports is now available at bdalecardsyouthsports.com Sign up today for Football, Soccer or Sideline Cheer.