Check out current coaching openings under Employment Opportunities.


Next Week in Bloomingdale Athletics 9/28-10/3 Monday, 9/28 MS Soccer @ Kalamazoo Homeschool @ 4pm HS Soccer @ Kalamazoo Homeschool @ 5:30pm MS Volleyball @ Decatur @ 5pm Tuesday, 9/29 JV/Varsity Volleyball @ Centreville @ 5:30pm Wednesday, 9/30 MS/HS Cross Country @ Marcellus @ 5pm MS Football @ Bangor @ 5pm Varsity Soccer Home vs Cassopolis @ 5pm MS Soccer Home vs Allegan @ 6:30pm JV/Varsity Volleyball @ River Valley @ 5pm Friday, 10/2 Varsity Football @ Gobles @ 7pm Saturday, 10/3 Varsity Volleyball Quad Home @ 9am CC Home vs Paw Paw @ 10am

The football game scheduled for tomorrow night (Friday, 9/25) has been canceled. We will get back at it next Friday away vs Gobles.

Here is some information on how EEE may impact athletics this fall.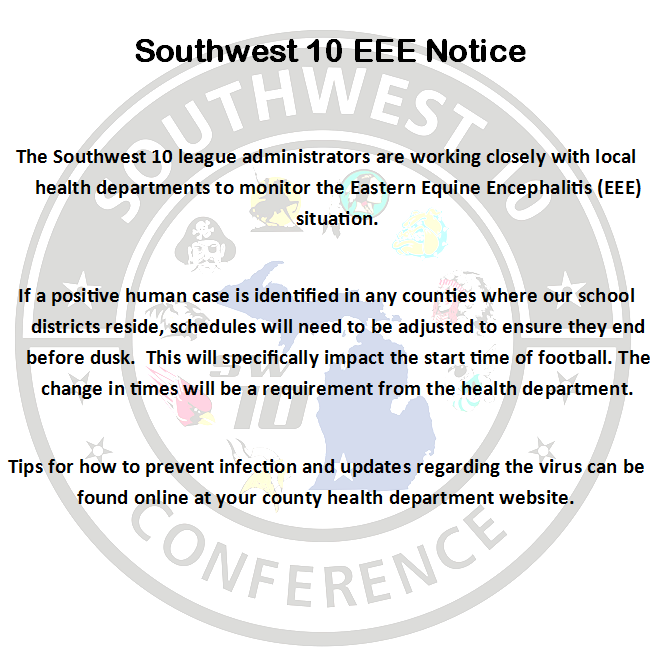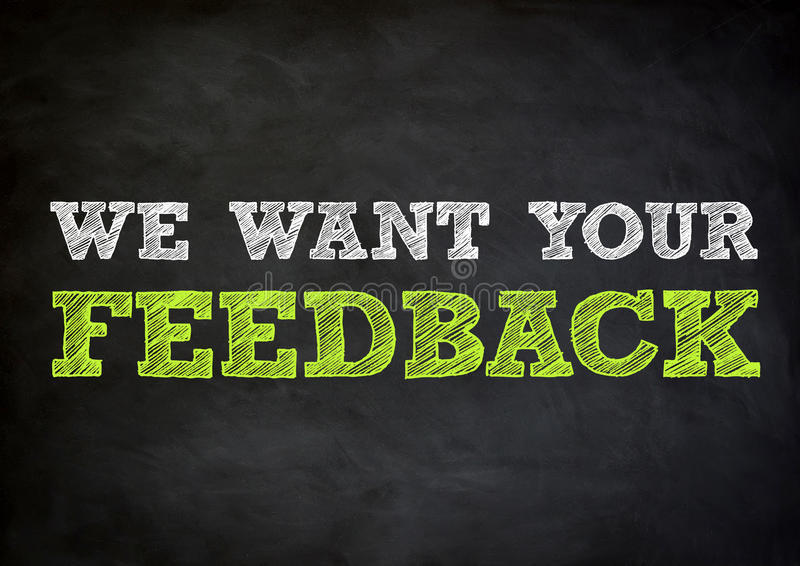 Athletic Schedule 9/21-9/26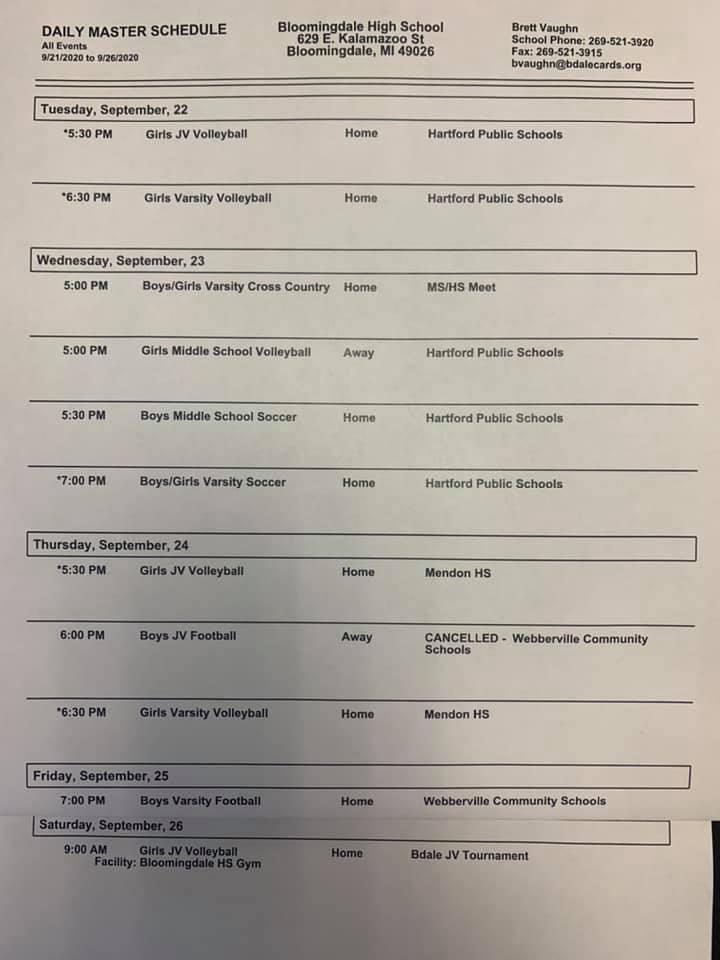 Are you planning on attending an athletic event this Fall. See attached image.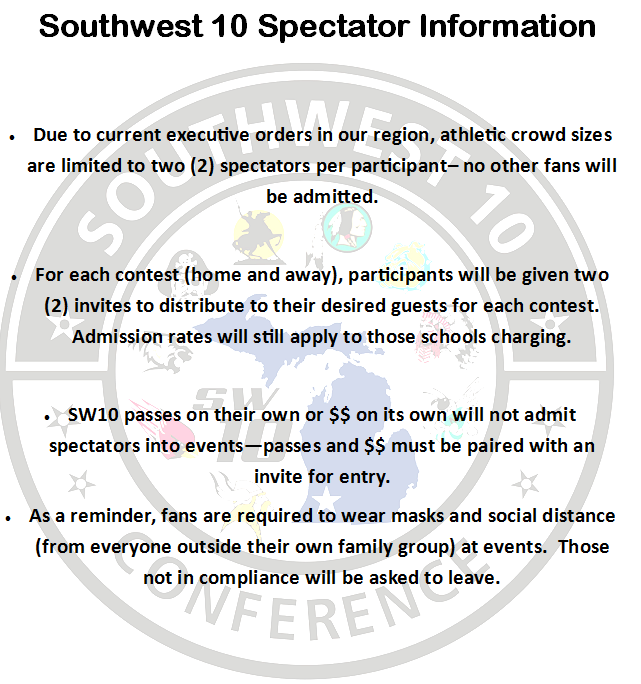 Congrats to the Varsity Soccer team! Defeated Cassopolis 3-2. Miguel Lopez with 2 goals, Esteban Lule with a goal, and Eli Rude with an assist.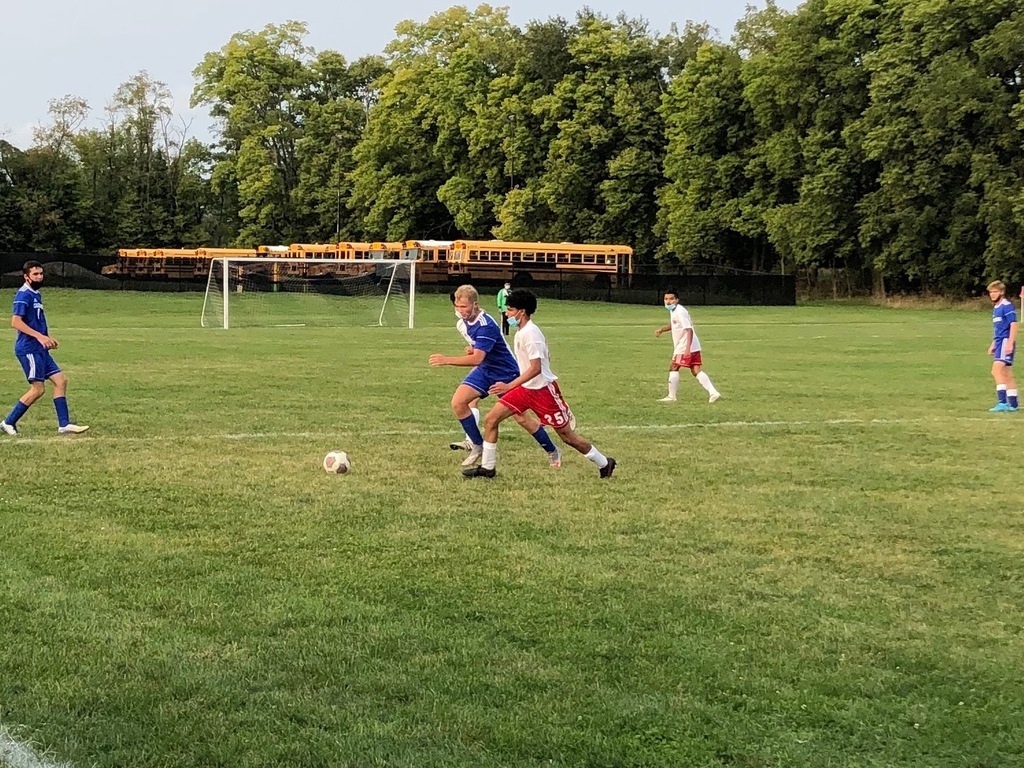 For all athletic events you must have a ticket to attend. Each athlete will be given 2 tickets to give out. The ticket will be presented at the gate with admission cost or pass. All individuals including children count as a guest.

Meals available for children. Please click the image below for more information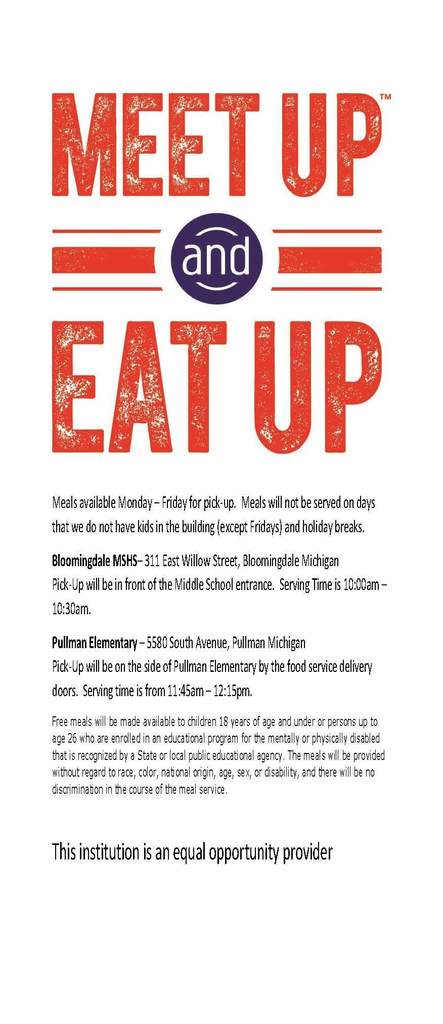 Important: If you are attending a sporting event you must wear a mask. According to the EO all participants and fans are required to wear masks. The only exception is CC runners while participating right now.

This Week in Cardinal Athletics 9/14 Soccer @ Cassoppolis 5pm 9/14 JV/V Volleyball @ Lawrence @ 5:00pm 9/14 MS Volleyball vs Decatur @ 5:00pm 9/15 JV/V Volleyball @ White Pigeon @ 5:30pm 9/16 MS Volleyball @ Centreville @ 5pm 9/16 Varsity Soccer vs Bangor @ 7pm 9/17 JV/V Volleyball vs Bangor @ 5:30pm 9/18 Varsity Football @ Morrice @ 7pm 9/19 MS Volleyball @ River Valley @ 1pm 9/19 JV Football @ Bangor @ 12pm

Marking Periods for Bloomingdale Elementary and Pullman Elementary Marking Period 1 August 31, 2020 – October 30, 2020 Marking Period 2 November 2, 2020 – January 22, 2021 Marking Period 3 January 25, 2021 – March 26, 2021 Marking Period 4 March 29, 2021 – June 11, 2021

The middle school football team is looking for more players. If you are in-person learning or virtual learning you are eligible to play. They practice from 5-7pm during the week. If you are interested you can start as early as today at 5pm. All you need is a physical and the MHSAA Health Questionnaire filled out. Any questions feel free to contact me at
bvaughn@bdalecards.org
.