This Friday is the Senior Citizen Luncheon at Bloomingdale Public Schools. Please join us at 1:30pm at the middle/high school cafeteria or at 1:00pm at Pullman Elementary. There will also be a special performance of the Pan-de-Monium steel drums at the Bloomingdale location.

Do you own a business? Do you know someone that owns a business? Are you interested in a partnership with Bloomingdale Athletics? I have attached two pictures of some different options. All money from the first phase of this partnership will go directly to purchasing a new score table for the high school gym. Let me know if you have any questions at all. I can be reached at
bvaughn@bdalecards.org
. Thank you. GO CARDINALS!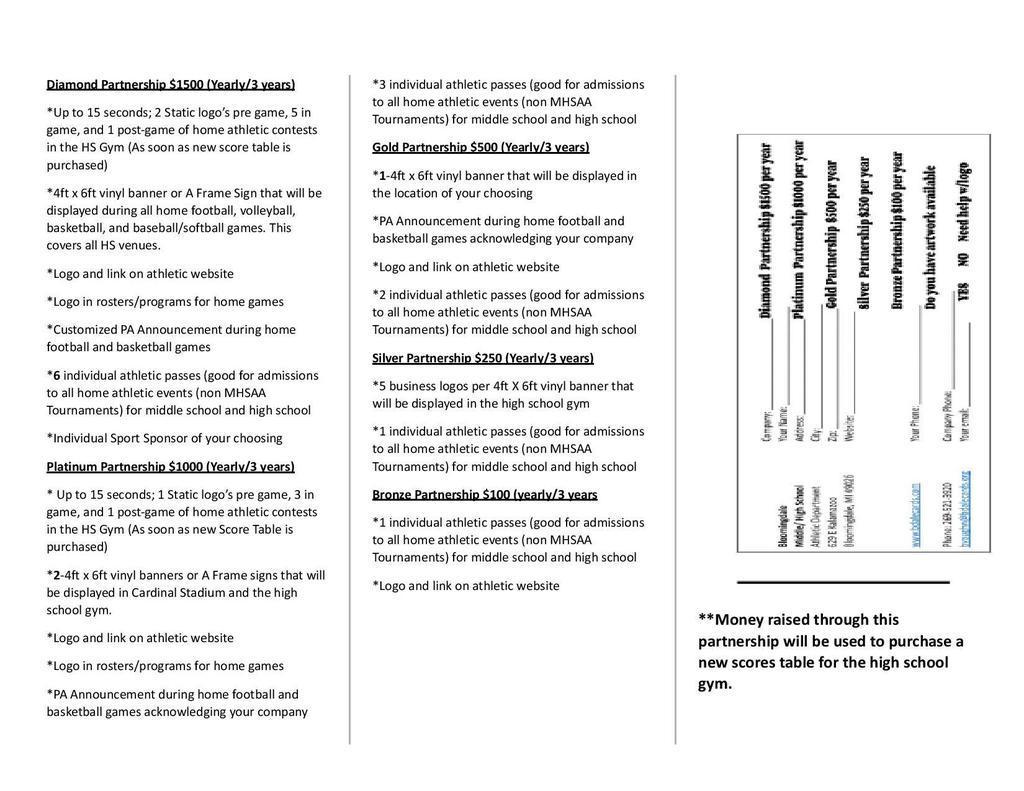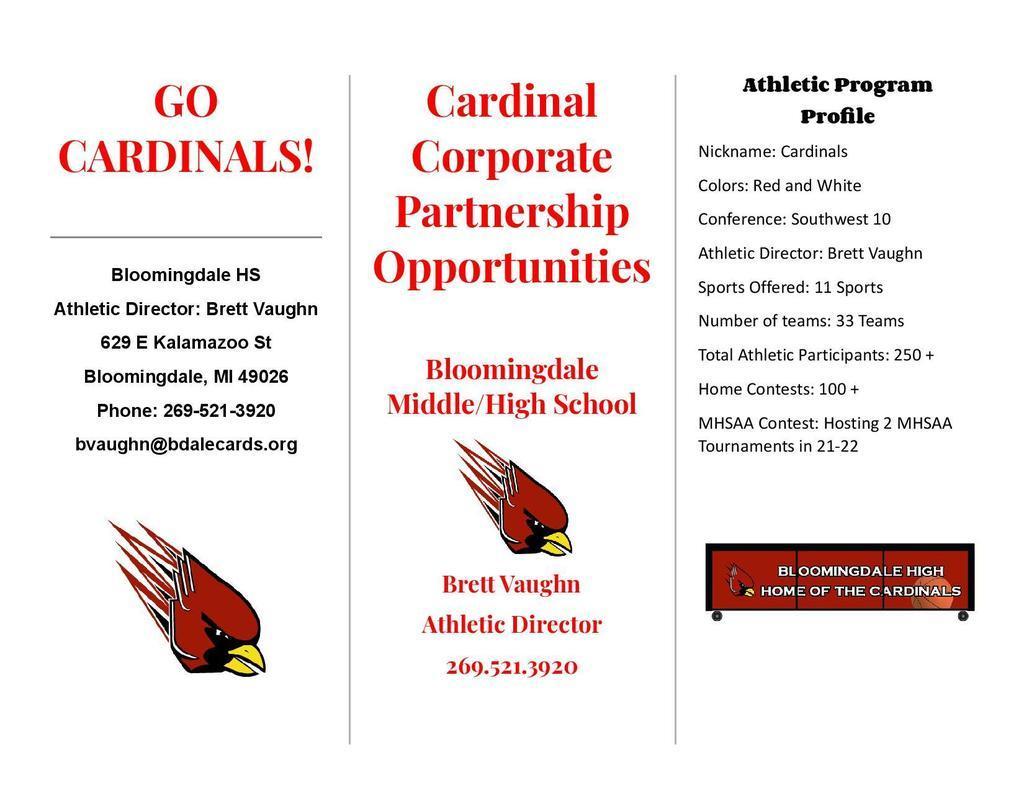 Athletic Schedule for the week of 9/20-9/26 GO CARDINALS!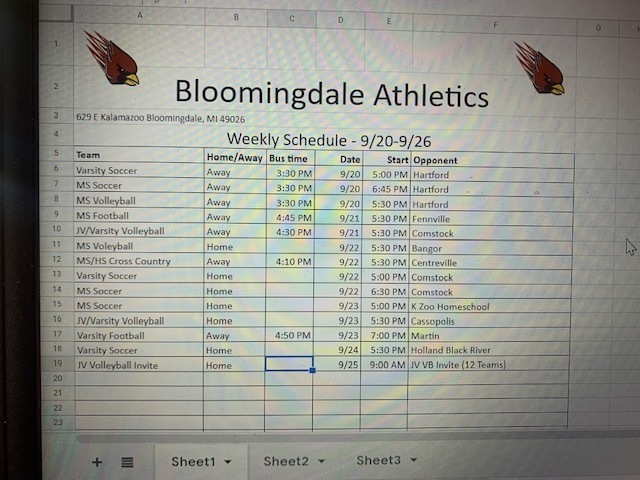 6-12th grade students who may be suffering from the loss of a loved one. There will be groups formed soon to help cope with this issue. Your child should be bringing a note home soon. Please sign and have your child return to their advisory teacher to be included in this monthly group counseling. Any questions please contact Mr. Campbell School Counselor, 269-521-3910
12th grade students who wish to attend college. October 12th from 5-7 p.m you can get help filling out your FAFSA free application which determines how much money you can get in student loans. It also can determine if you qualify for any grants or scholarships which do not need to be paid back. Parents should attend this and bring W2 from last year to complete application. For questions please contact Mr. Campbell, School Counselor 269-521-3910.

We have a lot going on tonight at Bloomingdale. Come out and support our Cardinal Athletes. The JV and Varsity Volleyball teams host Centreville. The JV will start at 5:30pm and the Varsity will play after. Also the Varsity and Middle School Soccer teams will host Bangor tonight in Cardinal Stadium. The Varsity game will start at 5pm and the Middle School game will start at 6:45pm. Admission cost will be $5 for all adults tonight (because the middle school game is paired with a high school game). Student admissions is $3 unless you have purchased the student T shirt for $20 and wear to the game. If any students would like to purchase one of the student T shirts, we will have them for sale tonight and tomorrow at the home games. GO CARDINALS!

Calendar Change The district calendar has changed. October 14 will be a 1/2 day for students. Parent/Teacher conferences will begin at 12:30. Please see the updated calendar on the District's homepage at bdalecards.com


Here are some Athletic Updates for this week **Middle School and High School Soccer game originally scheduled for 9/13 vs Bangor @ Bangor will be Thursday, 9/16 at home. Varsity will start at 5pm and Middle School will be @ 6:45pm **Middle School football game on Wednesday 9/15 is a 5pm start, not 5:30pm (As I had in the announcements this week) **Middle School soccer game on Wednesday at 5:30pm will be on the field behind the elementary. GO CARDINALS!


BOARD VACANCY Bloomingdale Public Schools has a vacancy on the Board of Education. Any interested parties should submit a letter of interest to Dr. Deanna Dobbins at
ddobbins@bdalecards.org
AND Anita Manley at
amanley@bdalecards.org

Soccer games are cancelled for tonight due to an officials shortage. As soon as a new date has been agreed on I will let everyone know.

Athletic Schedule 9/13-9/18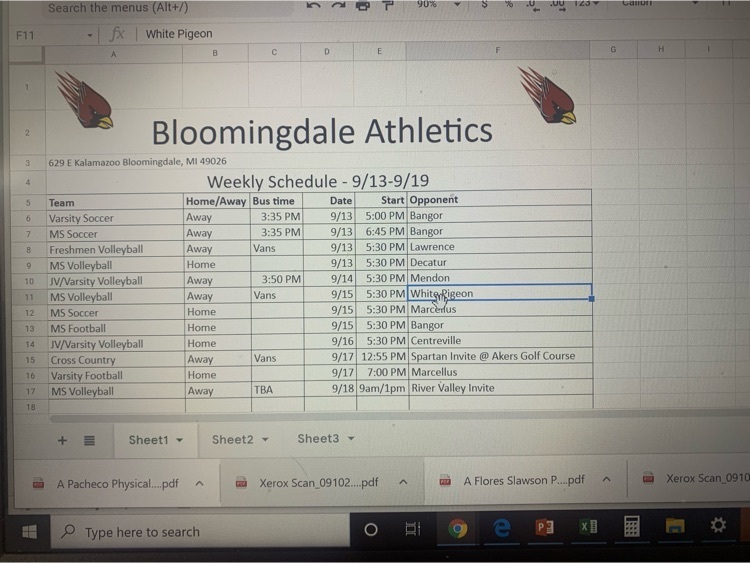 Join a winning team! Bloomingdale Public Schools is looking for a 4-hour per evening custodian. Please contact Becky Stone at 269-521-3906 for more information.

We are still looking for a few more middle school football players. We are at jeopardy of not fielding a middle school football team this season. If you are interested they practice at 3:30pm the rest of the week. Come and talk to Coach Cone.

Athletic Updates for Remainder of the week: 9/8 Varsity Soccer @ Comstock @ 6:30pm originally scheduled for last night 9/9 Varsity Soccer Home vs Cass is now a 6pm start instead of 5pm 9/10 Freshmen Volleyball @ Schoolcraft @ 5:30pm 9/11 Varsity Soccer Invite Home @ 9:30am

Soccer game at Comstock scheduled for tonight is cancelled due to expected weather.

Added Athletic Event for week of 9/6: Freshmen Volleyball will travel to Schoolcraft on Thursday, September 9th @ 5:30pm.